New Tools To Help You Stay Connected, Engaged and Organized
It's never been more important than it is right now to keep your teams, groups and communities active and engaged online.
We can do more together, and Rallyhood is here to make that easy.
This year, we've expanded our collaboration platform to include tools to help you manage events (virtual and in-person) and collect payments for things like: registration, dues, and donations.
We've also added tools for our Premium Users who need solutions to organize sub-groups, gain visibility into engagement analytics, and create more custom experiences for their groups.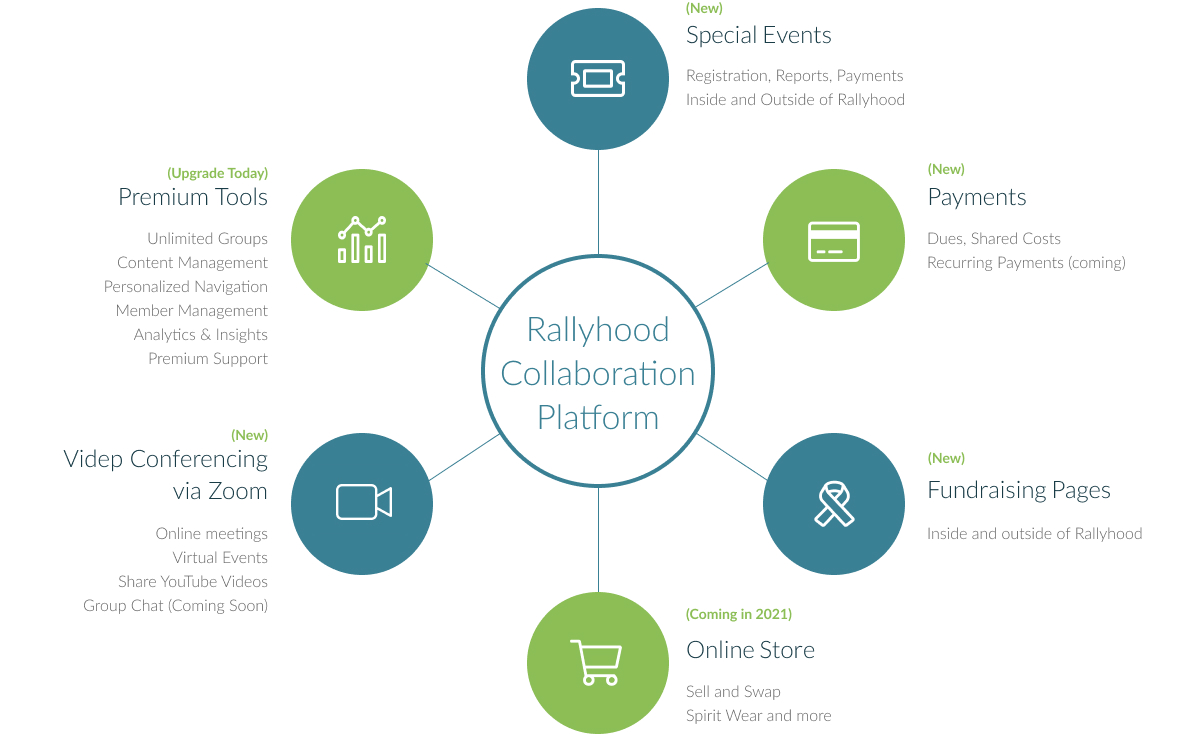 (NEW)
Special Events
Registration, Reports, Payments Inside and Outside of Rallyhood

(NEW)
Payments
Dues, Shared Costs, Recurring Payments (coming)

(NEW)
Fundraising Pages
Inside and outside of Rallyhood

(Coming Fall 2020)
Online Store
Sell and Swap Spirit Wear and more

(New)
Video Conferencing via Zoom
Online Meetings, Virtual Events, Share YouTube Videos, Group Chat (Coming Soon)

(Upgrade Today)
Premium Tools
Unlimited Groups Content Management Personalized Navigation Member Management Analytics & Insights Premium Support
Rallyhood has chosen Stripe as our payment processing platform because of its best-in-class (PCI - Level 1) security tools and certifications, as well as its years as a market leader empowering millions of businesses, and individuals to collect and make payments.
Rallyhood + Zoom: Now you have a seamless way to engage members before, during and after your virtual events on Rallyhood. With this new functionality, it's as easy as 1-2-3.
Simply add your Zoom meeting link into the event details or your "Special Event" page.
Once your members have registered for your event, they will automatically receive the information they need to join your virtual meeting in a confirmation email.
Only members who register will receive the meeting link and password, keeping things safe and secure.
Rallyhood + YouTube: It's now easier than ever to share important videos with your group without sending them away from your Rally site.
Simply add the link to your YouTube videos in the "Links" section.
Your videos will be beautifully displayed and played inside your Rally.
Whether you are sharing "How-To" tips or showcasing a video montage, these new capabilities will help keep all your content centralized, so members know where to find it, when and where they need it.
Here's how Amy D. used the new
Suite of Tools to
save time and money
Amy Donovan
GSCNC Volunteer
Troop Leader
Service Unit Communications Chair
Service Unit Program Coordinator
"I turned to Rallyhood Special Events to create, advertise, schedule, register participants and collect payments for my Girl Scout Troop Money Earning Event. Here's what we loved about using Rallyhood's Special Events:
As an organizer, I could do everthing I needed in one tool, which saved me tons of time and frustrations.
We were able to set a deadline for cancellations so that we'd have time to recruit more and ensure we had the minimum number of participants.
We were able to fill the event by advertising it to troops all over the council (not just our local Service Unit) via Rallyhood.
We were also able to collect all the payments in advance.
Using Rallyhood ended up saving us about $150 because we had about 6 last minute cancellations and no-shows. If we hadn't collected the money in advance, my troop would have been responsible for covering those registration fees.
Using Rallyhood Special Events with online payments made the process really easy and we had a great workshop!"
See for yourself how the new Rallyhood tools can boost collaboration and drive engagement across your groups.